ST@R Ambassadors – A shining example
ST@R Ambassadors – A shining example
Each class at St Richard's has a ST@R Ambassador. They stand out around school because of their bright red ambassador hoodies and their positive attitude. Each star ambassador was chosen by their previous class teacher because they model and promote the school values at all times. The ambassadors are pupils who embody what it means to be a pupil at St Richard's – hardworking, kind, respectful, engaged and determined. They are passionate learners, they endeavour to do their best at all times and they are proud members of our school community. They have a positive influence on those around them; other children see the respect and positive praise they receive and it helps them to follow in their footsteps. All of our ambassadors gently support their fellow pupils to shine like stars too!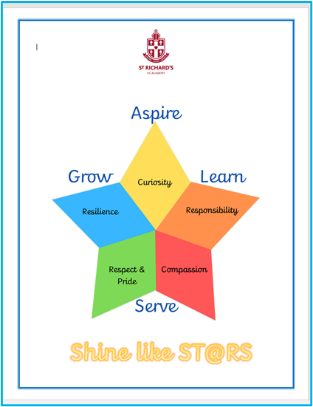 Role of the ST@R Ambassador
The primary role of a ST@R Ambassador is to be a consistent role model to other children; modelling and living out the school ST@R values of compassion, curiosity, respect and pride, responsibility and resilience. The ambassadors live out the school values through their desire to learn and achieve their potential; through their interactions with peers, staff and visitors; through their positive attitudes; through their ability to face challenges with resilience and through their unending kindness and compassion. All of our ambassadors were chosen by their class teachers because they shine like stars!
Meet our 2022/23 ST@R Ambassadors who are blazing a trail everywhere they go!