School Mission Statement
Our Mission, Values and Ethos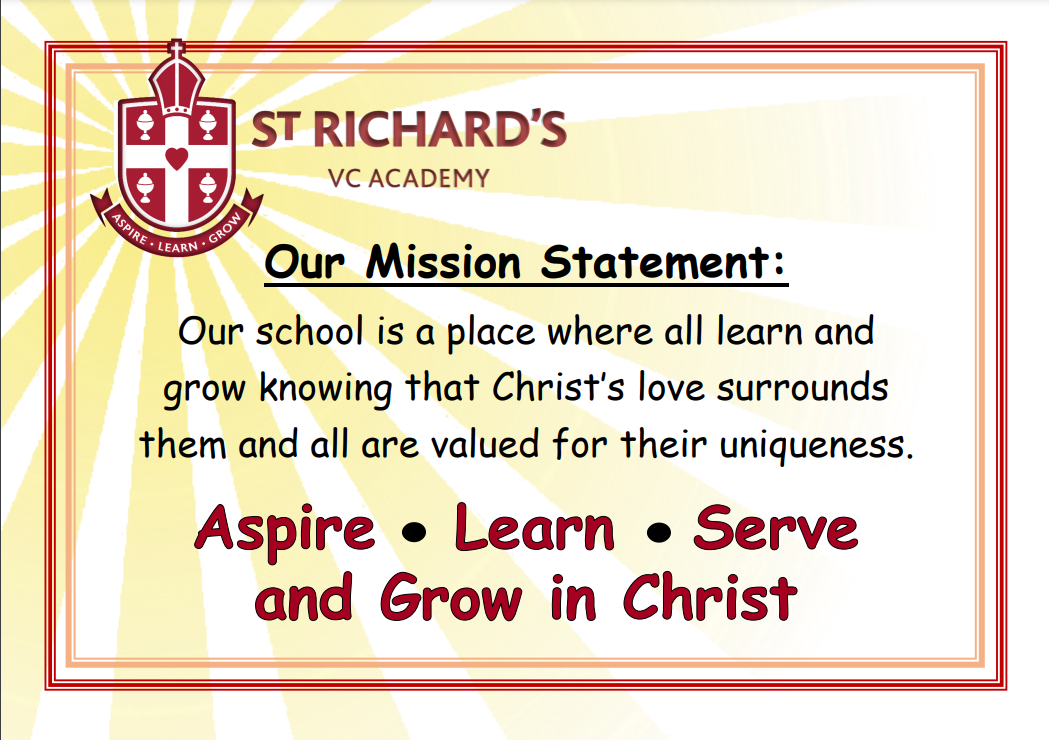 'Aspire, learn, serve and grow in Christ'.
At St Richard's VC Academy special attention is devoted to the development of personal qualities, values and attitudes in accordance with the school mission statement:
Our school is a place where all learn and grow knowing that Christ's love surrounds them and all are valued for their uniqueness.
Our Aims
The distinctive Catholic nature of St Richard's VC Academy embraces the message of Christ and inspires the curriculum and all aspects of school life. Religious education is taught in accordance with Roman Catholic doctrine and practice.
The School aims to provide the kind of education which enables each pupil, in accordance with his or her ability, to grow in love and understanding of themselves and others and of God in their lives and to be a responsible citizen.
'The mission and ethos of Catholic education not only underpin all that the school does but are lived out daily by staff and pupils alike. Strong relationships are a strength of the school and foster the development of a community in which inclusion is given a high priority.' ( Section 48 Inspection October 2013)
Within the school there will be accordingly:
· a welcoming atmosphere
· a love of learning
· a respect of discipline
· an understanding of personal responsibility
· an acknowledgement of the part played by family and Church in each child's development and an appreciation of their help.
St Richard's aims to give your child an excellent all-round education with an enthusiasm and zest that will make his/her school days the best they can possibly be. Our broad and balanced curriculum aims to enrich personal formation and nurture enquiring minds. It promotes knowledge, understanding, skills and values in the context of spiritual, moral, intellectual, physical and social development. The school will endeavour to be an integral part of the local community and will forge links with individuals and groups.